The fact that an eBoy haircut isn't a brand-new hairstyle doesn't make it any less trendy. There are numerous ways to style your fringe bangs pushed to the sides in this elegant way. It's no surprise that you can do it with any hair type or length. Go over to the detailed guide we put up for you to get the feel of the style and the most popular ways to wear it.
What Is Eboy Haircut?
What should be considered first is how to channel an eBoy meaning of their staple hairdo. According to the eBoy definition, this is a sort of men's hairstyle that has long strands of hair on the top of the head defined by a middle part and styled to look like curtains.
How To Wear Curtains Today
The original eBoy 90s hairdo was sleek and straight. The separation in the middle was substantial and definite. You can now wear it regardless of your hair type. As a result, today's eBoy hairstyles are more textured, relaxed, and feature an uneven, natural parting. By the way, this haircut is very similar to a traditional bowl cut for a pot, but with a central parting.
What To Ask For
Your hair type will influence your decision to wear your hair in a curtained style. Long curtain bangs are a good option for those with wavy or curly hair because they won't look like a thatch. For a face-framing effect, a cheek-length haircut is preferable if your hair is straight.
3 Tips For Maintain Eboy Haircut
Men should follow these guidelines to get the most out of their middle part haircut:
1.Add an undercut or fade to the Eboy hairstyle.
Although traditional middle part haircuts call for a single layer all over, there are many of current alternatives, the most popular of which being an undercut middle part and an Eboy haircut fade.
2.It's up to you whether you want to style it wet or dry.
A curtain haircut is typically groomed dry and free falling for a natural look. Applying a substantial amount of hair pomade or wax to give it a stylish wet finish is an option.
3.Split Ends: How to Get Rid of Them
Hairstyles with a middle part for men look best when the hair is healthy and lustrous. With fragile and fractured ends, this is impossible to achieve. To avoid this problem, be sure to properly care for your hair on the inside and out, and if you do, make an appointment with your barber for a fresh cut.
Timothée Chalamet Eboy Haircut
Timothée Chalamet takes a unique spin on a curtain hairstyle. He not only embraces his natural hair texture, but he also shifts the centre parting to the side.
Wavy Hair Middle Part
Middle part hairstyles, as previously said, are suitable for all hair textures. Curly and wavy hair receive greater definition and prominence with a middle part.
Charles Melton Eboy Haircut
Charles Melton demonstrates that wavy hair parted in the middle may work with the eBoy look. The actor uses hair gel to define his curls for more impact.
Men's Middle Part With Highlights
Men might use highlight in the top and bottom strands to emphasise their middle part haircuts. This will not only add movement and definition to your hairdo, but it will also enhance it.
Middle Part Curls Eboy Haircut
When it comes to hair texture, middle part hairstyles have no bounds. Even if your curls are tight, you will be able to get the most out of the style.
Asian EBoy Haircut
One of the most popular techniques to achieve an eBoy haircut is to use an Asian curtain. Men with Asian hair locks don't have to fight to achieve an eye-catching and appealing style thanks to a middle hair part.
Slick Middle Part Haircut
Not sure how to style Eboy's hair for a formal occasion? Make a parting in the centre of your hair and slick it down with a hair product.
Brad Pitt Eboy Haircut
While this Hollywood dream guy looks great in any hairdo, parted hair elevates it to a whole other level of admiration. Brad Pitt's hairstyles are always stunning.
E Boy Haircut With Undercut
Combine your middle part men's hairstyle with an undercut haircut on the back and sides for more impact. A curtain hairdo gets more contrasty and defined in this way.
Dyed Eboy Hair
Men's hairstyles with a middle part can be enhanced in a variety of ways. However, if you want to go all out, there's no better way to go than dying your hair blond for a sleek and sophisticated eBoy haircut.
Short Curtains Hair
Any length of hair can be parted down the middle. The most important need is that it be long enough to fall to the sides. So, if a short centre part hairstyle appeals to you, go for it.
Straight & Wet EBoy Haircut
Offset the parting a little to spice up a conventional eBoy middle parts hairstyle, especially if you have straight tresses. Straight hairstyles with a side part look sharper and harsher by default.
Thick Eboy Fringe
Guys with thick hair can experiment with several fashionable haircuts to improve their curtain bangs. You may, for example, go for a middle-part undercut with a heavy fringe.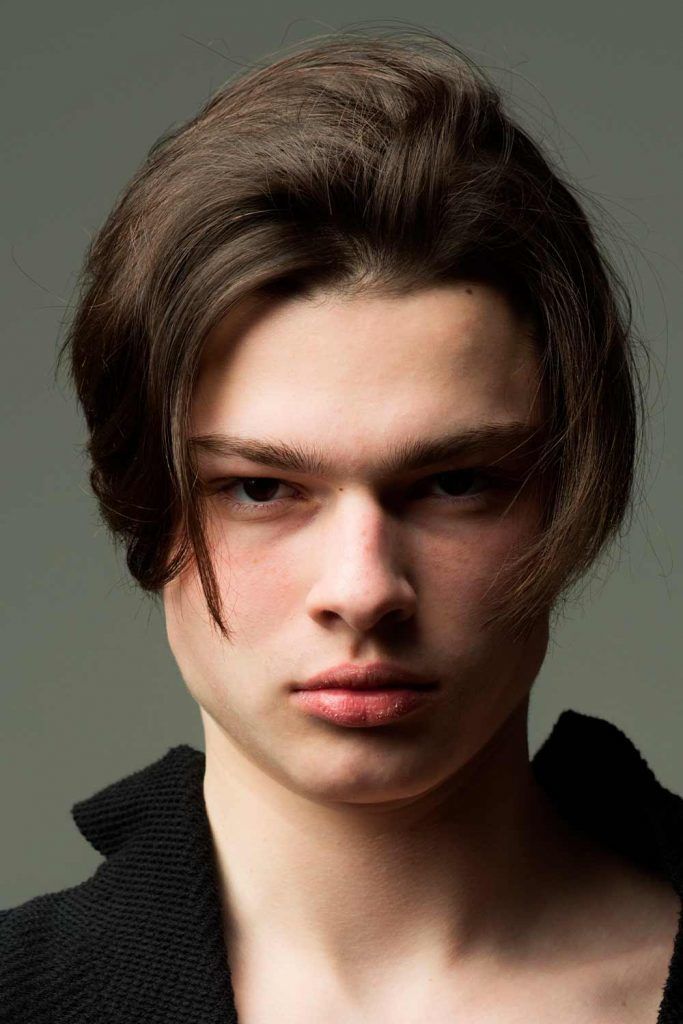 Keanu Reeves Eboy Haircut
Every hairstyle worn by Keanu Reeves becomes famous, and his curtain cut is no exception. The John Wick star adds a coarse beard to his look to make it more macho.
Cole Sprouse Hair
Cole Sprouse's curtain haircut can be used as inspiration for middle part hairstyles. His signature naturally curved hairstyle will hardly go ignored.
Layered Mens Middle Part Hairstyle
All men's hairstyles with a middle part benefit from layers. It adds body and volume to your hair, all of which are necessary for this look.
Swept-Back Curtain Bangs
Even though a typical middle parted hair male look is done with the hair falling to the sides, sweeping the bangs back gives it an effortless and trendy sense.
Surfer Boy Haircut
This casual and breezy surfer boy hairdo screams summer vacation. We don't know either. To get the look, you'll need a sea salt spray and a diffuser attachment for your blow dryer. Take that into consideration.
Channing's Tatum Curtain Bangs
The eBoy hair trend is similar to the straight curtains hairdo, which Channing Tatum predicted ten years ago. The actor uses styling products to define his hair for a more sleek look.
Longer Locks
Create volume with styling products to achieve this sloppy appearance. Add volume to your hair with a blowdryer and a hairbrush. Hairspray can be used to keep the stacking in place.
Thick Wavy Strands
The curtain bangs will be a little more challenging to manage if you have thick hair. Apply a light coat of wax or gel to the strands and use a blowdryer to set them.